Brandy Stewart, Courtyard project
Full renovation of courtyard area including a 350sqft sand set paver patio, perennial planting beds, Fabricated steel trellises and full drip irrigation. The landscape and fabrication plans where done by Sprout Inc.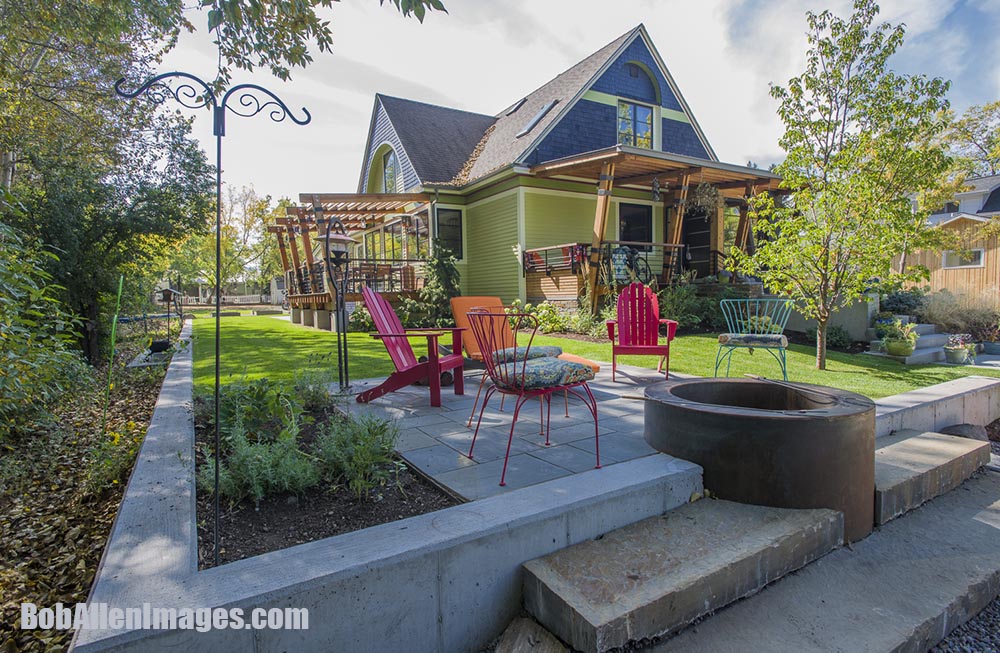 Full renovation of the entire property post house remodel. Landscape renovation included new steel edged landscape beds, a bluestone patio, sandstone stair treads, paver walkways, steel and timber raised planters, full irrigation system and a timber retaining wall/dog run area. This beautiful landscape design was created by Design 5 Landscape Architects.
Full renovation of the entire property post house remodel. Landscape renovation included new steel edged landscape planting beds, tree, shrub and perennial plantings. The hardscape scope included a angular flagstone walkway with stair treads, an incorporated irregular flagstone patio, circular cut, and a Celtic style stacked stone wall; Note the patio detail where it is scribed into wall. A full irrigation system was installed for both lawn and planting beds. The wonderful landscape plan was created by Linda Iverson.
The Harvey project was a large paver install. We installed a sand set paver walkway from the front sidewalk, all the way to the back alley parking pad. We incorporated a full back patio into the walkway. We then removed the old concrete front driveway and installed a full sand set paver paver driveway. All paver work was edged in with steel and reinforced with rebar bracing. The walkways and patio had a minimum of 4 inches of compacted roadmix base installed on top of a heavy geotextile. The driveway was installed the same way but with 18 inches of compacted roadmix as a base. This paver project design was created by Sprout Inc.
The Cochran project was one of our favorite projects to date. Mitchell Roe Construction did an amazing job building this beautiful home. Troy Scherer and the staff at Design 5 Landscape Architecture did a brilliant job with the landscape planning and design for this project. Bill Cochran, owner of the residence, played a huge roll in project development and installation. It was also a pleasure to work with Matthew Thomsen of Modist Design, fabricator of the steel planter boxes. It was a honor to do the install with this team.
The scope of this project for Sprout inc. was vast. We did the installation of the patio and all stone walkways. The installation of front stone stair slabs and front landing stone slabs. The installation of all steel edging and planting beds, including the planting of all trees, shrubs and perennials. Installation of all sodded turf areas. We worked in conjunction with Matthew Thompsen on the installation of the large planter boxes around house. The installation of complete irrigation system, both turf and garden beds/boxes. The project was capped off with the construction of a Bocce court, complete with subsurface drainage and an oryster shell playing surface.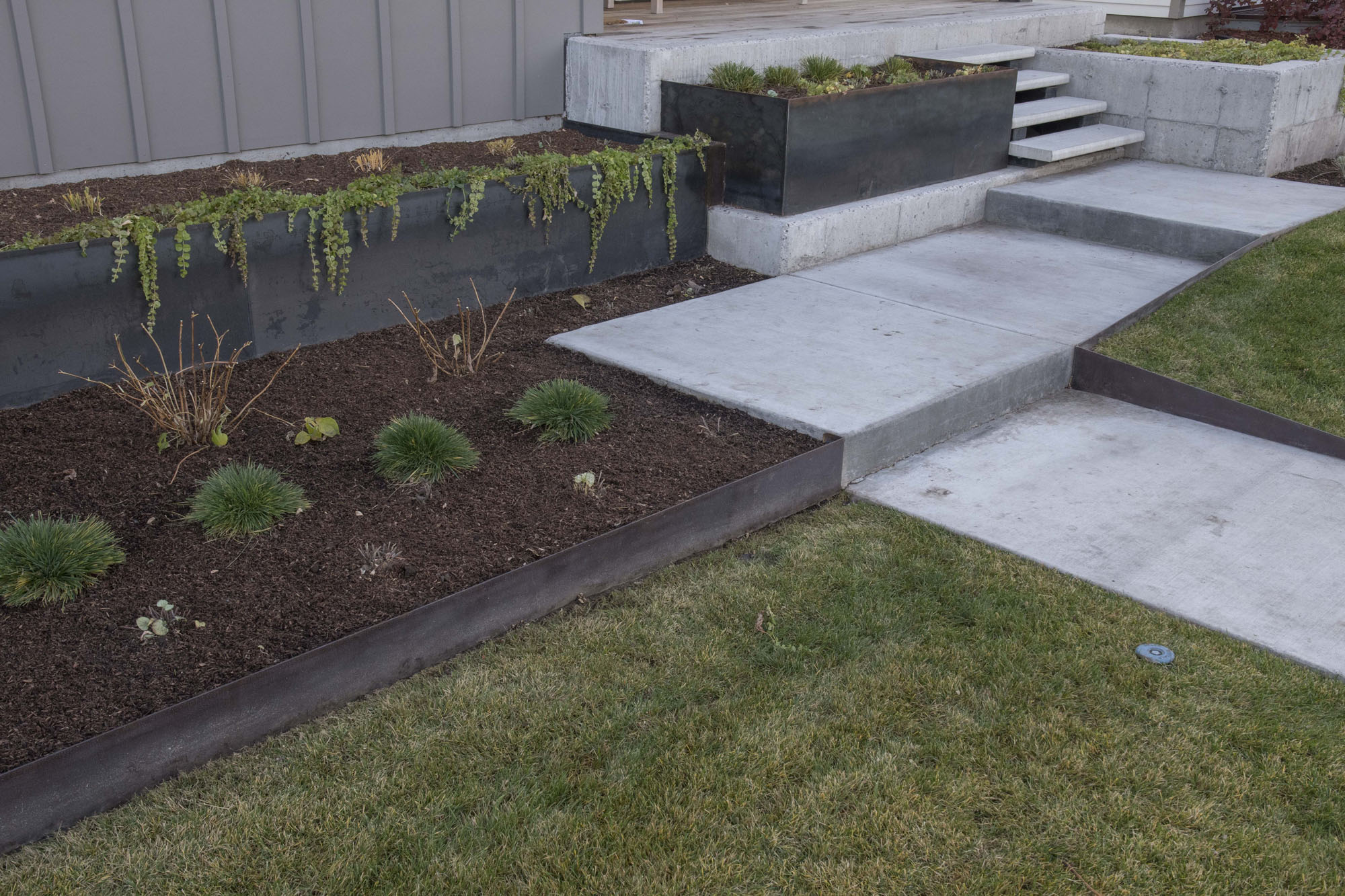 The Hansen project was designed by Design 5 Landscape Architects. We where very excited to do the install. The project installation included Multiple steel planter boxes, natural stone walkways, a circular stone patio and wonderful tree, shrub and perennial plantings. Inset landscape lighting was incorporated into the circular patio. A full irrigation system was also installed including water efficient turf sprays, drip irrigation and sub-surface drip irrigation for small backyard turf area.
The Feher project is a fun, on going project, that keeps on evolving. This project has been a collaboration in design between the owner( Paola Feher), Sprout Inc. and Design 5 Landscape Architects. We started a few years ago with the installation of the front yard garden beds, a small garden patio, and a raised lawn area in the back yard bordered by concrete steps, patio and steel planter boxes. We also built a large recessed window well planter on the west side of the house. Next we built the back fence around the backyard perimeter. The front fence was built by another contractor. After the main backyard raised area was finished, we started on the back yard garden and greenhouse area. The back greenhouse and garden area consisted of building a base for the greenhouse, complete with water and power plumbed in. The greenhouse was built in Norris, Montana by Frontier Rustic Design. Frontier Rustic delivered the finished greenhouse and we helped install it on the base. We have since installed a second greenhouse on the property. We then installed nine steel planter boxes and two large timber planter boxes. All boxes are irrigated with drip irrigation. Building all of these steel planter boxes was big task so we enlisted the help of metal fabricator Kelly Murphy of MC2 designs. Kelly built a number of the boxes off site in his shop and we built the rest on site. The final number of steel planter boxes on the project was 13, all different shapes and sizes. The garden this was incredible, over flowing with vegetables and cut flowers. This last year we rebuilt the rustic swing set in the back with a new steel bar and fittings, fabricated and installed the final steel planter boxes, installed the second greenhouse, created a rock garden planting area complete with seating boulders and prepared the remaining backyard for the final phase of landscaping set to go in this spring.
The Seitz project was a small front yard island project. The plan was to open up the front yard and increase the light on the south side of the house by taking down one of the two large spruce trees. We then added a small berm of topsoil and had concrete curb edging installed. We finished the island off with select shrub and perennial plantings. Decorative washed round landscape rock topped off the newly created island.
Steel fabrication is another aspect of landscaping we like to do. We do fabrication of steel planter boxes, retaining walls and steel bed edging.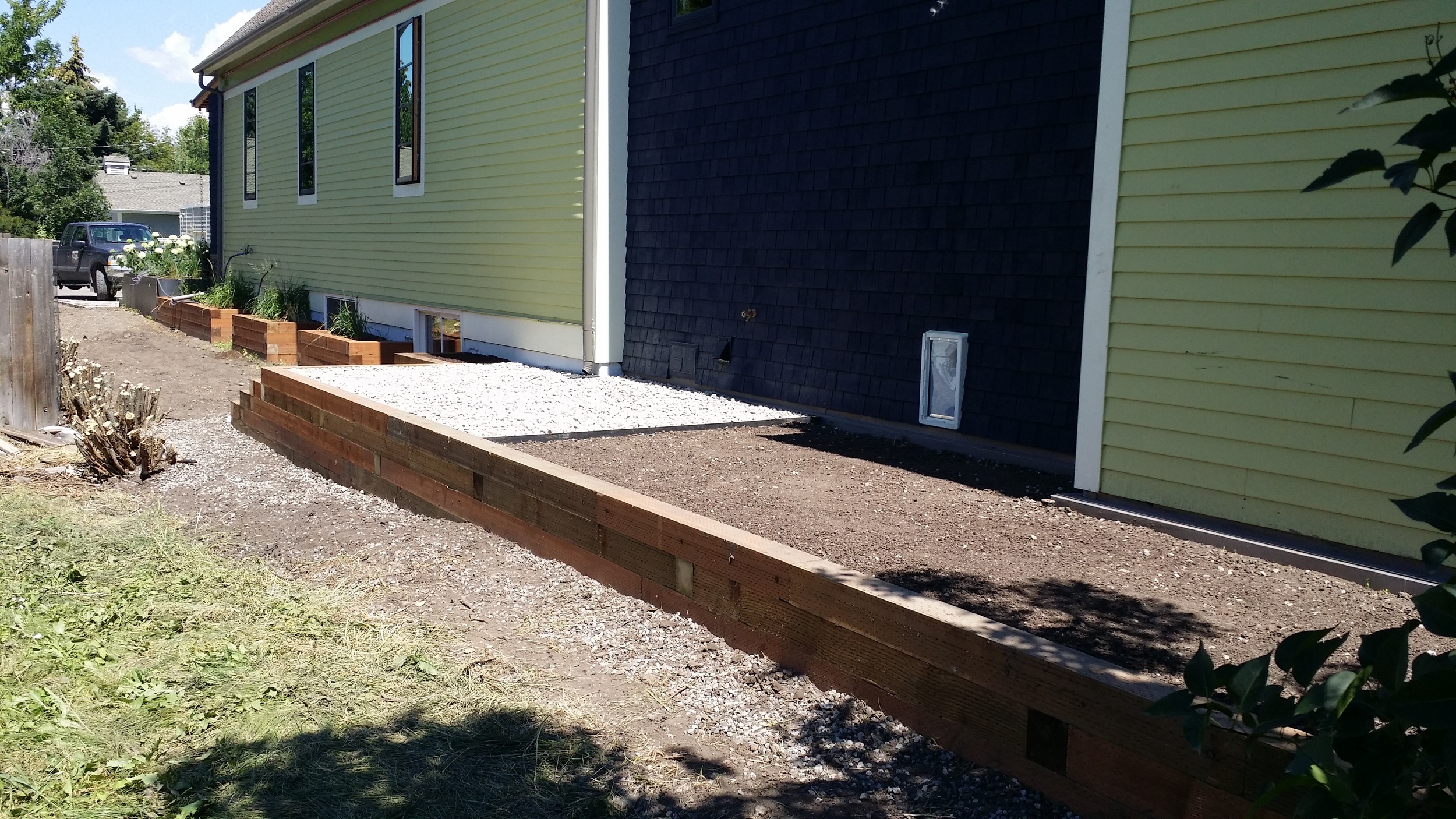 We do all kinds of retaining and decorative walls including timbers, boulders, steel and stacked natural stone.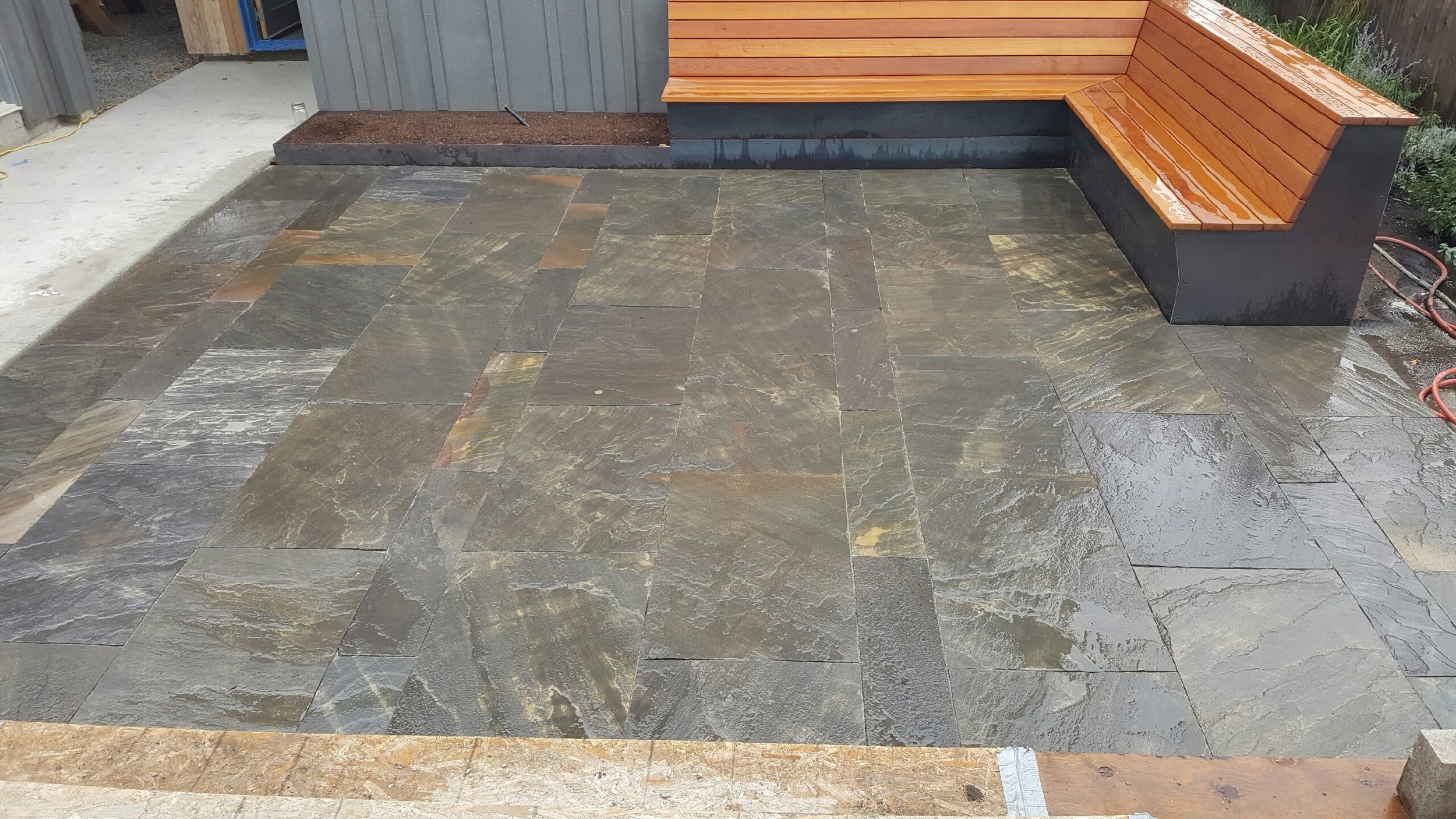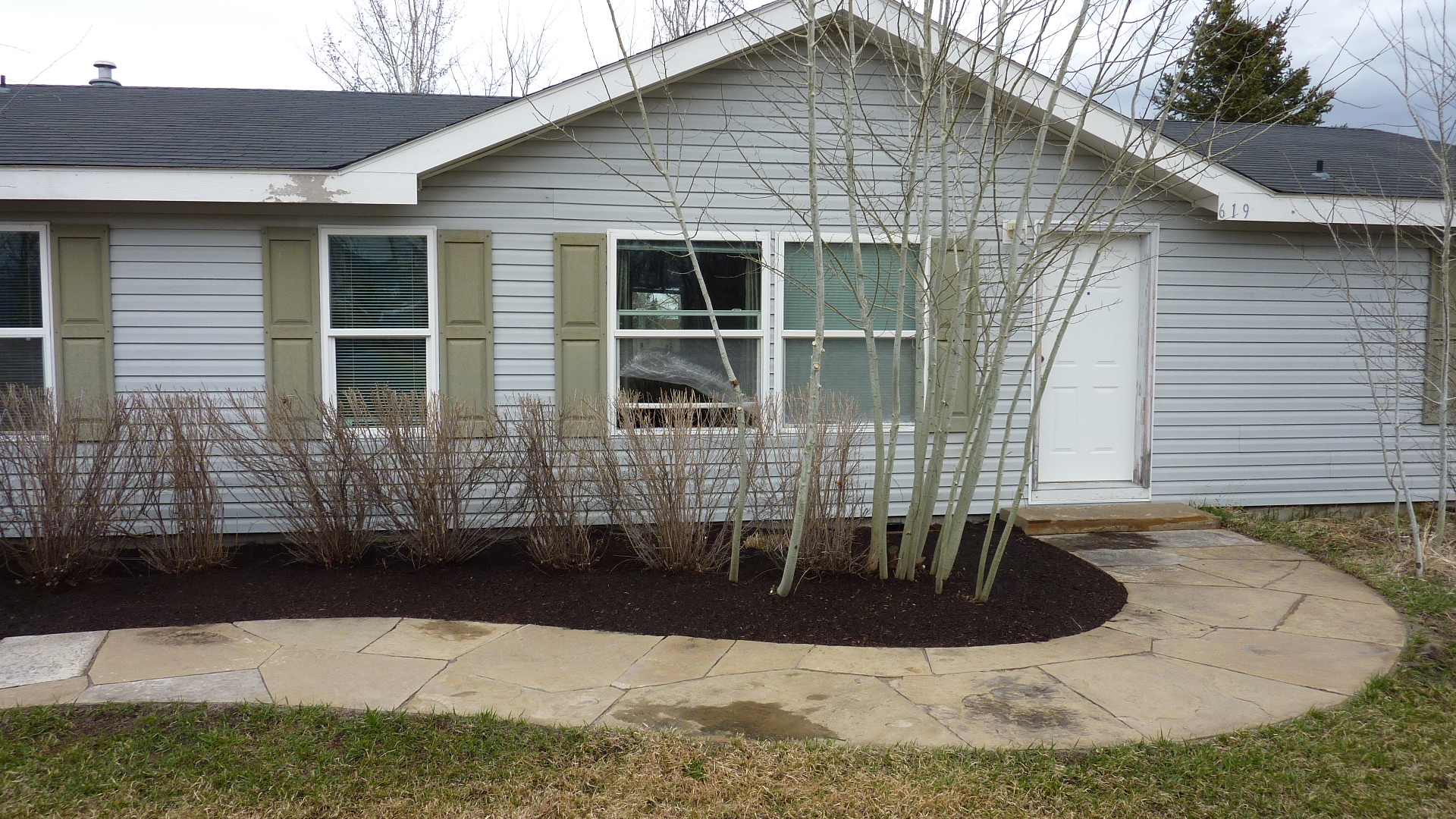 We here at Sprout Inc. pride ourselves on our patios and walkways! We feel we provide a beautiful, quality product. We install everything from concrete paver patios in many different styles and colors to angular cut and irregular cut flagstone and blue stone. We also do decorative gravel type walkways and stepping stones.